Providing Quality Geese Control for:
Parks & Playgrounds  •  Schools & Universities  •  Golf Courses  •  Corporate Centers
Municipalities (state, county & local)  •  Residential Communities    •    Cemeteries  
Government Agencies  •  Cemeteries  •  And many more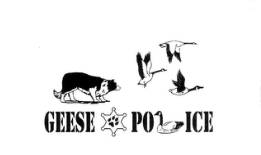 Own Your Own Geese Police, Inc. Franchise
Got a taste for the outdoors, a love for animals, and a desire to start an exciting new career as your own boss? At Geese Police, Inc., in Wall Township, New Jersey, we have a franchise opportunity for you. Look forward to owning your own business with our low-cost franchise opportunities designed to meet your needs.
Geese Police has been providing successful franchising opportunities for more than 18 years. Franchising opportunities from Geese Police, Inc. can provide you with the tools to become the owner of a successful self-run business that has instant referrals and national name recognition.
Benefits of being a Geese Police, Inc. franchise owner include: